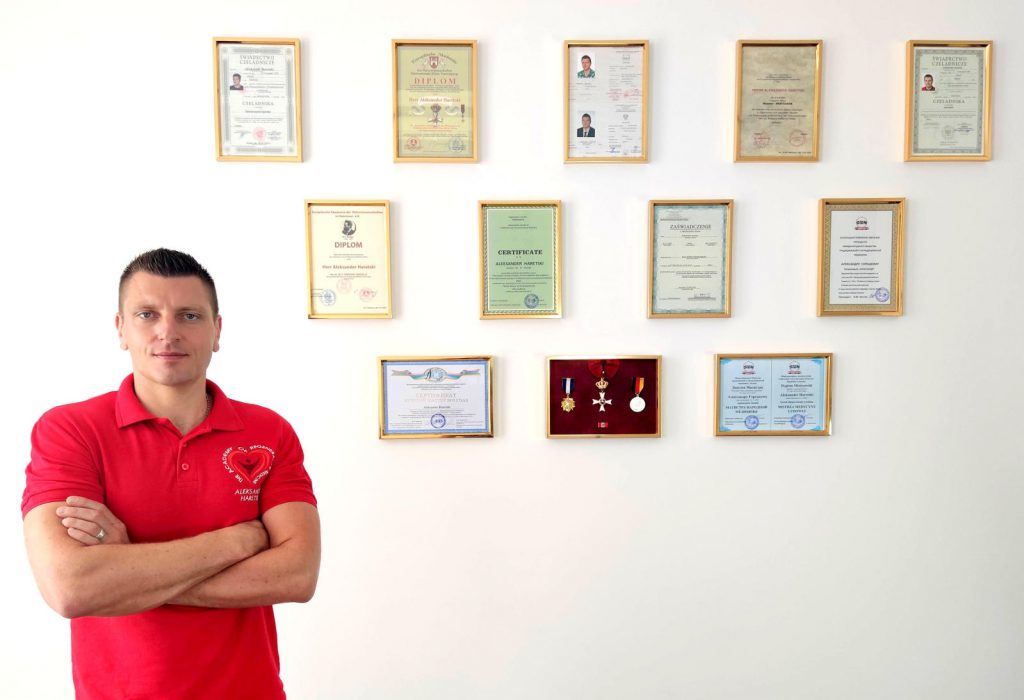 Aleksander Haretski junior
Son and successor of Aliaksandr Haretski, the founder of the Academy of Regenerative Medicine.. He continues to develop regenerative medicine and the effective integrated use of natural medicine in treating, regenerating, detoxifying and rejuvenating the body. He is actively involved in the development of the Academy along with his father since its establishment.
His many years' experience allows him to effectively combine his knowledge and skills in the field of conventional (modern) medicine, gained during his studies and work as a physiotherapist, with centuries-old knowledge in the field of natural medicine. Devoting himself to patients, he constantly enriches his knowledge and improves his skills in order to help sick people whom modern medicine is already powerless to help. Together with his father, he develops, improves and effectively puts into practice the author's method of human organ regeneration, biological body rejuvenation, integrated healing of chronic "incurable" diseases and aging with the help of natural medicine techniques.
Master of Economics in International Relations, Wroclaw University of Economics and Business, Poland
Practicing bioenergy therapist since 2013.
Practicing physiotherapist. In 2015, he graduated from the Faculty of Social Sciences & Health, Walbrzych Higher School of Management and Enterprise, Poland.
In 2018, he obtained a Master Herbalist (Phytotherapy) Diploma.
In 2019, he obtained a Naturopath diploma and a specialist certificate "Family Doctor of Alternative Medicine"
In 2019, he was awarded the title of Master of Folk Medicine.
In 2019, he obtained a certificate «The Best Naturopathic Expert of 2019» from International Professional Association of Complementary Specialists, Alternative, Folk Medicine and Psychologists.
In 2019, he received a thank-you letter from the International Organization of Traditional and Alternative Medicine for participating in the 21st International Seminary in Riga, Latvia.
In 2020, he was awarded the F.A. Mesmer medal for his contribution to science and culture by the International University of Science in Hannover, Germany
In 2020, he was completed pedagogical course for instructors of practical vocational training.
In 2021, he was completed course of Total Therapy – diagnosis, treatment and prevention of pelvic, spine and skull diseases.